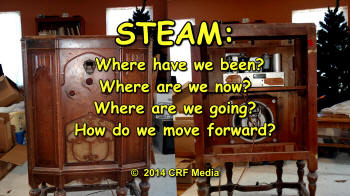 STEAM More information and download options
Science, Technology, Engineering, the Arts and Math are integral and interlocking disciplines. They transcend time, space and cultures.
It is instructive to observe small snapshots relating to these concepts as we look at:
Where we have been?
Where we are now?
Where we are going?
How do we move forward?
This video represents a personal perspective of these areas with major emphasis on middle school students who are growing up in an environment much different than mine in the 1940's and1950's.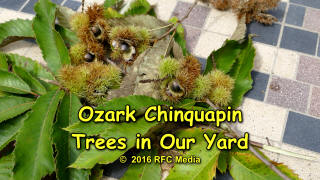 "Ozark Chinquapin Trees in Our Yard"
Chinquapin 720p Final update.mp4 13:46 380mB Updated October 6, 2016
Chinquapin Trees were once plentiful in the Arkansas and Missouri Ozarks producing a bountiful crop of delicious nuts. The wood was strong, decay resistant and often used for building materials, furniture and musical instruments. Sadly, during the 1950's, the Ozark Chinquapin Trees began dying. This devastation was caused by the Chestnut Blight first appearing in New York during the early 1900's. The Blight rapidly progressed westward and, ... in just 50-years, ... reached the Ozarks. Fortunately, a few trees survived as new growth sprouting from the old rotting stumps and some trees reached maturity. Several people and organizations have worked to propagate these survivors.
Note: This chapter was produced in 4K-Ultra-hd (2160p) video resolution and has been scaled down to 720p
Go to the Chinquapin Script for more information including several photos that can be used to help identify the trees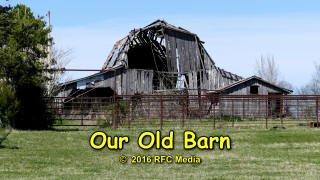 Our Old Barn is made from oak trees that once stood tall.
Our Old Barn.mp4 4:28 124 mB As of March 2016, Our Old Barn near Gateway was still standing, but it will not be long until it is a pile of rubble.
This barn, like many throughout the rural Ozarks, once was a symbol of the family lifestyle and livelihood. It was where, growing up, children learned responsibility, integrity and hard work. Sadly, these iconic structures are becoming few in number. We often wonder how the children of today are developing the character essential for the world of tomorrow.
We will keep you informed about the status of Our Old Barn. It is up to you to question the status of the future generations.
Note: This chapter was produced in 4K-Ultra-hd (2160p) video resolution and has been scaled down to 720p.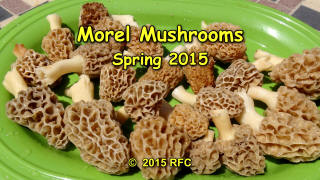 As the wait continues for the Morels, the beauty of Spring unfolds around us.
Morel Mushrooms Spring 2015 7:06 246 mB Mushroom 720p.mp4 , 7:06 270 mB Mushroom 1080p.mov (See note below). The devotion to the unique flavor and texture of the Morels is deeply steeped in history, culture and family. When I was a kid, my brothers and I would go with Dad out in the woods to gather the mushrooms. We brought them home and Mom prepared them for a family feast. The time to search for Morels is when the Dogwood trees are in full bloom. Also, May-apple plants among the undergrowth is often observed. However, one should not expect to find these mushroom treasures on the first day of search. Rain fall and soil temperature are critical for their growth. Note: This chapter was produced in 4K-Ultra-hd (2160p) video resolution and has been scaled down to 720p and 1080p..
Note: The recently developed High Efficiency Video Codec (HEVC) was used to encode this full HD video. A high speed computer with W-10 or a fully updated W-7 or a computer with the new version of VLC is required to view the video. Alternatively, most new TV's (2015 or newer) will play the video.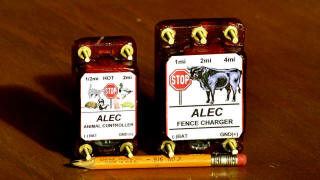 These devices are no longer in production, but it is an interesting story from the Ozarks.
ALEC Products 6:33 155 MB Alecproducts 720p.mp4 ALEC Electronic Animal Control products were designed for control of cattle, horses, sheep, swine, and other animals. They used a patent pending technology that provided for much longer battery life than conventional fence chargers. The small, rugged, water-tight, polyester resin encapsulated unit gives significant flexibility in application and installation techniques. The performance monitor gives an indication of the charger, the battery, and the fence status. They cost $25 to $50 depending on the unit capacity and were sold on the internet during the late 1990's.
Three brothers, now in their 70's, find many "Treasures of the Past" located near Gateway, Arkansas.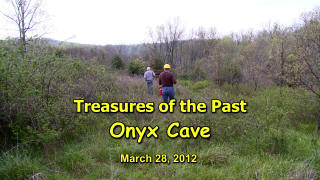 Onyx Cave 11:57 393 MB Cave 720p.mp4 It is often difficult to find treasures of the past. Weeds and brush fill the once well-worn trails. Memories of important guideposts become dim. Last Fall, Bill and Fay, after a long search, ... finally found the Onyx Cave near Gateway, Arkansas. Today, the three of us are returning to this once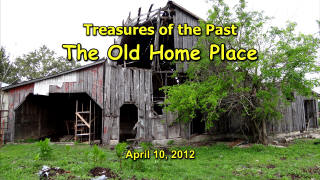 well-known spot. Remnants of the road leading up to the cave are now observable only as we approach the cave entrance.
The Old Home Place 20:27 789 MB Home Place 720p.mp4 There were many treasures that Bill, Fay and I wanted to find at the "Home Place" but ... perhaps the most valuable was the inside of the barn. This structure, ... like no other, ... is a symbol of our growing up years and of a time much different than today. Still, the three of us have many lasting images of our home, our family and the roots that bind us together. As brothers, the treasures we found represent a valued part of our past. They are reminders of long ago days when we lived and grew up on this farm as a family.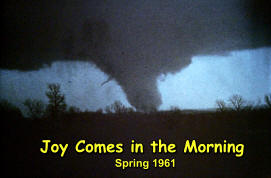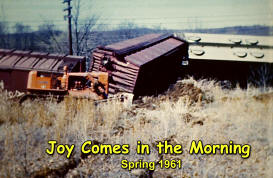 Joy Comes in the Morning 4:20 142 MB Joy 720p.mp4
Weeping may last for the night,
But a shout of joy comes in the morning.
Psalm 30:5b
Looking toward the south on one strange day in March, there was an eerie calm. The dark, billowing clouds swirled around and soon hung over the barn lot. Now to the southeast, and seemingly just beyond the old oak tree, a tornado was stretching from the sky to the ground.
Another traumatic event was the train wreck in Garfield, Arkansas that occurred one day before Easter. The wreck was caused by a broken rail in which the eleven cars in the center section of a 164-car train derailed just south of the old tomato canning factory.
These events occurred in the early spring of 1961 near Gateway, Arkansas. They were both traumatic events that threatened lives and property.
The background music on this video is from an album made years ago by a pastor's wife who was battling cancer at the time. This courageous lady died from the disease a short time after making the recording. At the end of her funeral as her casket was pushed down the aisle of the church, her voice rang out singing Joy Comes in the Morning. She blessed every life she touched even in death.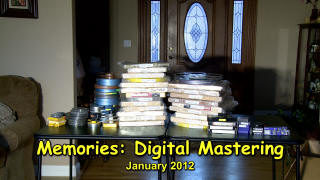 Memories: Digital Mastering 13:04 319 MB Film transfer 720p.mp4
This video documents how we have transferred thousands of filmed memories of years past to the digital Blu-ray format . The process of approximately three years was a labor of love for myself and my wife as a gift for our children.
The task included translating about 30,000 feet of 16mm movies covering the time period from 1957 to 1987 to HD 1080p. By careful adjustments and editing, the resulting videos turned out to be near HD 1080p quality. The quality of the translated 1200 feet of 8 mm film taken during 1955 to 1957 was about equal to standard definition video. Thousands of still pictures dating from the 1800's, -- some in albums, others stored in boxes -- were scanned and added to the digital archives. Also included in this collection are audio recordings, VHS, High 8, DV and HDV tapes, then the latest solid state memory cards for High Definition videos and digital still pictures. These digital files help define our families during times past.
With all of these precious memories stored in various formats and questionable longevity, our concern was that these archives would soon be gone and, over time, the content would fade from our minds, our hearts and our grasp. Soon, it would all disintegrate into fragments of long ago.
Innovations of the past have provided these treasured reminders. By using today's technology, the memories have been made available for generations to come. They can be easily updated and will no longer fade. At the present time, we have a total of ten completed Blu-ray discs covering the early years through 2011. Each disc is divided into several chapters with narration, text overlays, on-camera audio and background music. The total run time of these ten discs is approximately 24 hours.
Memories are precious. Do not let the film and pictures stored in boxes go to waste! It is our hope that by sharing this experience and expertise, others will be inspired to try to save their own memories in a reliable format.
In addition to the 720p video file posted for download, we have included 4 short clips rendered at full HD resolution (1920 X 1080 pixels), to better illustrate some of the examples in the video.
The file size for the entire video at full HD requires excessive bandwidth for downloading at this time.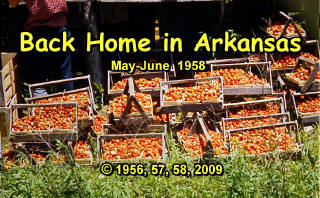 Back Home in Arkansas. This video was filmed in early summer of 1958 using my 16 mm Bell and Howell 70DR movie camera and at 16 frames per second. Included are scenes of strawberry picking time, Monte Ne, Roaring River and life on our farm.
Enjoy this time of visiting my roots in the Ozarks.
HD-720p version (File size 230 MB); 6:45 video run time. 58-06-Home.mp4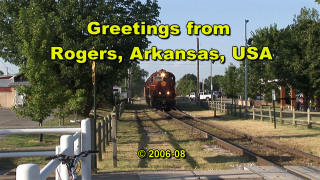 The Greetings From Rogers, Arkansas, USA was produced in 2006 for use in English as a Second Language (ESL) classes held in various foreign countries and has been distributed as a DVD in both the NTSC and the PAL format. The script in English as well as other languages is included with the DVD's.

540p version (File size 217 MB); 14:00 video run time. Rogers-540p-08.mp4
Statement About Video Use
The videos produced by CRF Media are to be used for information and entertainment. THEY ARE NOT FOR COMMERCIAL USE.
U.S. copyright laws protect all media material produced by CRF Media. The files downloaded from this site may be copied and distributed to others provided they are given FREE OF ALL CHARGES and they are distributed in their ORIGINAL FORM. Posting the videos on alternate web sites is NOT ALLOWED. Fragmentation of the material is STRICTLY FORBIDDEN without written permission from CRF Media.